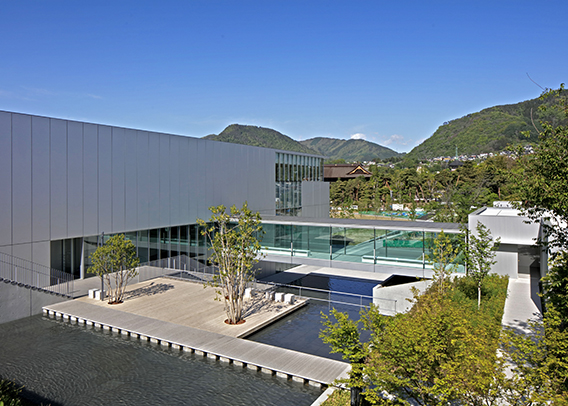 長野県立美術館
Nagano Prefectural Art Museum
この美術館は、長野市の城山公園内、善光寺に面する恵まれたロケーションに建つ。公園と後背の道路の間には約10mの段差があり、建物をそこに埋め込むことで、風景に突出することなく、ランドスケープと建築を一体的に計画する「ランドスケープ・ミュージアム」として設計を行った。
この、10mの段差を利用した断面計画と、善光寺と隣接する東山魁夷館に至る二つの軸を意識した平面・配置計画の二つが設計の骨格となっている。
なお、この美術館には、二つの機能がある。一つは、もちろん、公開承認施設を目指した美術館であり、もう一つは、公共施設として、人々に自由に多目的に利用できる場所を提供することである。この相反する二つの機能を実現するために、双方のエリアを明快に区分した。
展示室は、厚いコンクリートの壁で光や温度などの外的要因から護られた上で、明るく開放的な共用部に囲まれている。人々は、これらの共用部を、無料で、公園の一部のように利用することができる。
また、新しい美術館と既存の東山魁夷館の間には、カスケードのある水景を設けた。旧建物のあった場所には建物を建てていないが、結果的に段差を印象づけるランドスケープが完成した。
This museum is located in Joyama Park and face to the famous temple Zenkoji.
There is 10m difference between the park and the road behind, then we installed the building within that difference not to come out to the scenery. We designed this museum as "Landscape Museum".
We designed with two basic concepts, one is section planning using 10m difference in level and another one is floor and building form planning using two axes of neighborhood buildings, Zenkoji and annex gallery.
This museum has two functions. One is, of course, Art Museum aiming for special authorized by Japanese cultural affairs, government of Japan. On the other hand, as a public facility, we prepared space for people to use as their exhibition and activities without strict regulations.
To achieve those two conflicting functions, we separate two areas clearly.
Exhibition spaces are protected from external factors such as sunlight and temperature by thick concrete wall and surrounded by bright and open public space. People can enjoy these space as if in the park without charge.
Between this new museum and Higashiyama Kaii Gallery, ex_annex gallery, we installed water landscape with water stream. We didn't build any building at the place of old museum in honor of the architect and this landscape impress the difference in level as a result.
photo by Toshiharu Kitajima(1,2,3,4,5,9), Naomichi Sode / SS (6,7,8)