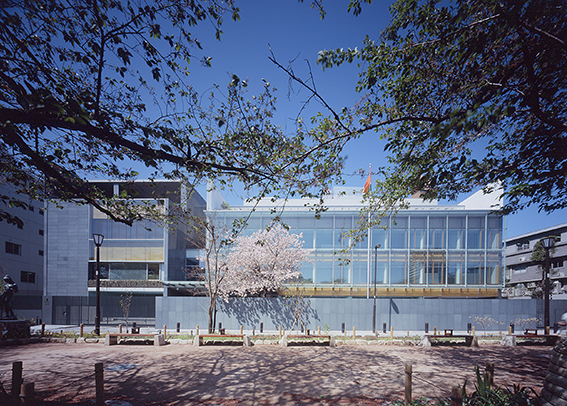 インド大使館+インド文化センター
Chancery Building + India Cultural Centre
Tokyo Construction Project
インド大使館+インド文化センター及び都内6敷地に点在する関連住居施設の建て替え計画である。
一連のプロジェクトの中心となる大使館+文化センターが計画された九段の敷地は、6敷地の中でも最も景観に恵まれた場所である。千鳥が淵を臨む他では得られないこの風景を活かし、建物の一部として取り込むことは必然と考えた。
その上で、大使館と文化センターという二つの機能の関係と、大使機能に対するセキュリティのあり方を考慮した結果、
・メインエントランスを挟んで、大使館と文化センターを機能的に分けた構成とすること
・大使館部分については、セミパブリック部分の内側 にもう一つセキュリティエリアを設けて大使館機能 をその内部に納めること
を基本的なゾーニングの考え方とした。また、敷地形状および要求面積から必然的に奥行が深くなる平面形状に対して、光や風を取り入れる吹抜空間をコア部分に設けることで、センターコアのオフィスにありがちな建物中央部分が暗く閉塞的な建物とならないような計画としている。
この光や風を取り入れるという考え方は、外装のデザインにも展開され、千鳥が淵に面した東側事務室は、基本的に床から天井までの開口をとっている。開口のアルミサッシには外部側に木を取り付けており、木材を貼りこんだスパンドレル部分と一体的に、木とガラスによる新しいファサードを表現した。
この建物では外装全般にわたって、花崗岩とガラスを中心に構成しているが、大使館という機能から連想されがちな重厚感だけを表現するのではなく、木との組み合わせによる親しみやすさや、大判ガラスを各所に用いた先鋭的なイメージの創出により、今後大いに躍進を遂げるであろうインドという国にふさわしい存在感を生み出すことを意図した。
Tokyo Construction Project :
Construction, Redevelopment and Renovation of Government of India Properties, 8 buildings in 6 properties, in Tokyo.
The premises facing Chidorigafuchi in Kudan have the most beautiful landscape in this project. Considering the relation of the two functions "Embassy" and "Cultural Centre", and also the need to satisfy contradicting requirements in that while it is necessary to ensure security, general visitors need to enter the Embassy in order to apply for visa, we settled on a basic zoning concept which
* is structured so as to functionally divide the Embassy and the Cultural Centre with a main entrance in between, and
* provides another security area inside the semipublic part of the Embassy portion to accommodate the Embassy functions.
To respond to the floor shape which inevitably has a large depth due to the shape of the premises and the required area, we further plan to set up well-hole style spaces in the center letting in light and wind. This concept of taking in light and wind is also developed in the exterior design; the office on the east side facing Chidorigafuchi is basically open from the floor up to the ceiling. Wood is attached to the outside of the aluminum window frames of the opening, expressing a new facade of wood and glass, integrated with the wood-covered spandrel. One more glass screen attached by dot point glazing on the front surface of the window frame further enhances the sharp image of the overall building. This glass screen does not constitute the facade as regards the design, but functions to protect the wood parts attached to the above window frames from sunshine and rain and also as a simplified "double-skin" to stabilize the indoor environment. Over the entire exterior, this building is mainly made up of granite and glass. This is not only intended to express the sense of dignity associated with the function of an embassy, but also to generate create a friendly image through the combination with wood, and an image of sharpness using large size glass at various points, so as to create a presence that is suitable for a country like India which is going to make great progress in the future.
To maintain the important functions of the Embassy also during emergencies, this building has various measures in place with respect to its structure and equipment. The greatest structural characteristic is the employment of a seismic isolation structure.
To maintain the functions as an embassy also during a disaster, an emergency power generator is provided, as well as water tank (supports directly connected water supply if used only to supply water) to secure drinking water. Further, interim water is used for toilets, etc.
受賞歴:
公開設計競技 最優秀

掲載誌:
新建築|2009年7月号
Open Design Competition : First Prize
photo by Toshiharu Kitajima