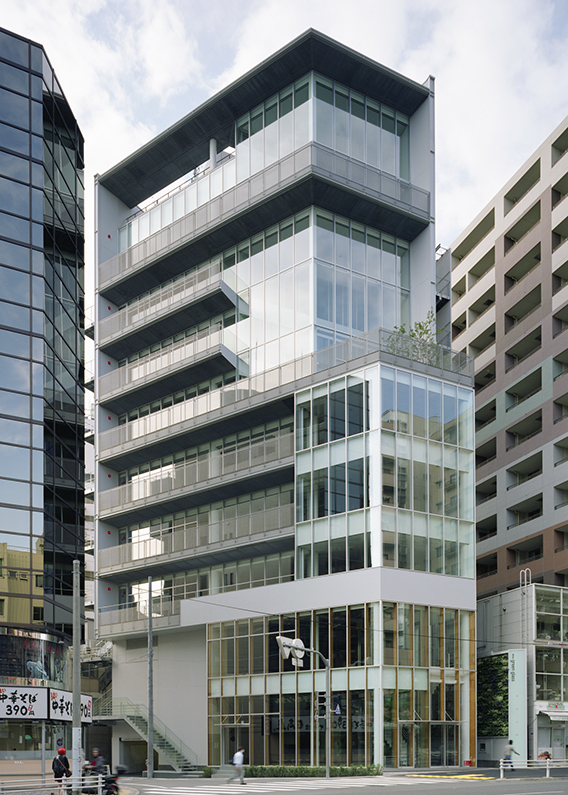 ebisu green glass
Ebisu green glass Office Bldg.
JR恵比寿西口、駒沢通りに面して計画されたテナントオフィス。「ebisu green glass」と名付けられたこのオフィスは、建設から運営における環境負荷低減を大前提としながら、豊かなワークスペースの創造をテーマとしている。不整形な敷地形状を有効に活用しながら、北面と東面は全面的にガラスカーテンウォールとし、自然光を取り入れるとともに商業エリアである前面道路に対し大きく開き、日射熱負荷の大きな南面は開口部を絞り、西面ではサービスコアを設け完全に閉じるというように、方位に応じた熱負荷とテナントビルとしての正面性を考慮した都市的なスケールのファサードを構成している。
また、日本のオフィスでは重視されることの少ない外部空間を積極的にワークスペースに取込んだ。各フロアにバルコニーやテラスといった外部空間を巡らせ、FIX窓に囲まれることの多いオフィス空間では得がたい広がりと開放感をもたらしている。
上層階では、天井を貼らず吹抜けや高天井を設けることで、階高を抑えつつもオフィス内のコミュニケーションを豊かにするおおらかな空間を創りだした。また、2階までの低層部は、商業系テナントを想定し、木複合サッシュのカーテンウォールや緑化壁(グリーンウォール)など、建物からのメッセージを発信するアイテムを、道行く人々の視線やスケールを意識して設えている。
"ebisu green glass" is a building designed to create minimal environmental impact in all stages from construction through daily use, while also serving as a highly versatile workspace.
The design makes optimum use of the irregularly shaped building site, and calls for a façade of urban scale intended to minimize thermal load while providing separate strategies for the various directions: the high thermal load of the western side, the strong sunlight of the eastern and southern sides, and the stable supply of daylight on the northern side. Another defining characteristic is the active incorporation of external areas into workspaces, a feature rarely given much thought in tenant office buildings in Japan. Terraces and areas of greenery on each floor not only provide shade, but also give workspaces a spacious and emancipating feel not readily attainable in normal office buildings, in which non-opening windows often surround the occupants.
Interior spaces are similarly open and environmentally progressive, employing a more advanced version of conventional double skin construction as well as "eco voids" for reduction the volume of air conditioning use, empty spaces that help facilitate communication, and encourage relaxation.
The lowest two floors are intended for commercial tenants and feature eye-catching and well-proportioned elements that emphasize the building's ecological message, such as wood and aluminum combination sash curtain walls and large-scale greenery-covered "green walls," as well as a carbon counter displaying the building's volume of CO2 emissions.

photo by Toshiharu Kitajima